Closed Request

This is a closed request. A Logo has already been made for this wiki. Do not make changes to this article unless you want to ask again.
Hello, this is Shrev64. I would like a logo for the Alex Rider Wiki, located at
http://alexrider.wikia.com/wiki/Main_Page
. I would like this image in the logo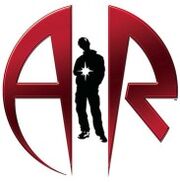 , with the logo being an appropriate size. Thanks in advance.
Shrev64
(
Talk
•
Contribs
) 23:13, June 5, 2011 (UTC)Shrev64
I'll work on this, but I'd like to use the text "Alex Rider" from this book cover image also. A wiki logo with just a symbol looks kind of odd to me, even if it has 2 letters in it. -- 

Fandyllic

(talk · contr) 13 Jun 2011 5:01 PM Pacific
You should use w:c:alexrider:Special:ThemeDesigner to upload the new wordmark. -- 

Fandyllic

(talk · contr) 14 Jun 2011 10:09 PM Pacific
Not to be rude or anything, but I knew that before. It's just that I'm not an admin at that particular wiki, and there's no other active admins on there. I myself am active there, but cannot take adminship because I took adminship at another wiki roughly three weeks ago. Another user who I know is very active at the AR Wiki, but she too cannot take adminship because of my reason. Shrev64(Talk • Contribs) 12:59, June 15, 2011 (UTC)Shrev64
Community content is available under
CC-BY-SA
unless otherwise noted.