Closed Request

This is a closed request. A Logo has already been made for this wiki. Do not make changes to this article unless you want to ask again.

Could I please have an image of the four Astralborgs in a circle like this:

Bottom: Dragonborg
Left: Fireborg
Right: Ladyborg
Top: Lightningborg

And in the middle of that circle, can I have the Beetleborg logo with the title "Beetleborgs Wikia"? And can I have Dragonborg holding the Astral Blaster under his head, Fireborg holding the Astral Axe to the left, Lightningborg holding the Thunder Stinger (in the mode with Blue Beetleborg's pulsabre attached) above his head, and Ladyborg holding the Astral Sword to the right? Also, behind Lightning and Fireborg, can I have an image of Boron, and an image of Roboborg behind Lightningborg and Ladyborg?

Thank you. JohnShel91 19:32, 2 May 2009 (UTC)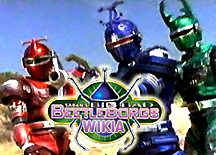 I couldn't find images of the characters holding those weapons, so I used a larger version of the image you provided. JoePlay (talk) 20:10, 2 May 2009 (UTC)
Community content is available under
CC-BY-SA
unless otherwise noted.