Closed Request

This is a closed request. A Logo has already been made for this wiki. Do not make changes to this article unless you want to ask again.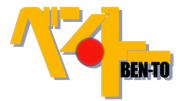 Hey, Bereisgreat again. I'd like to request another logo, now for the
Ben-To Wiki
. This is the image that should be used:
I'd like the word WIKI in black in the bottom right corner, prefereably in the same manner as "BEN-TO", same font and also with shading. Thanks :) Bereisgreat Shout! 64 edits on this Wiki 20:02, November 13, 2011 (UTC)
Hey Bereisgreat! (You probably know who I am. ;) )
Here's my take on the Ben-to Wiki logo.

Fitting a logo with squarish proportions is a bit of a challenge, and it needs Sen to avoid creating too much space in the logo. heraldofmeridian♣ 08:15, November 26, 2011 (UTC)
Thanks a lot Herald, I didn't know you were good at this kind of thing too :)

Bereisgreat

Shout! 64 edits on this Wiki 12:32, November 26, 2011 (UTC)

Hope you like the new logo, and good luck with your new wiki! By the way, should I consider this as a closed request? heraldofmeridian♣ 12:37, November 26, 2011 (UTC)
Community content is available under
CC-BY-SA
unless otherwise noted.