Closed Request

This is a closed request. A Logo has already been made for this wiki. Do not make changes to this article unless you want to ask again.

I would like to make a request for Black Cat Wiki.
Could you get rid of the background and the part that says Shonen Jump. Also resize the image to fit. If you think it would look better could you add Wiki to.HazeShot 00:25, May 6, 2011 (UTC)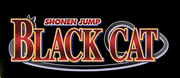 How is this?

Rswfan 19:24, May 12, 2011 (UTC)
Is their anyway to make the Black Cat part look like the one in the logo?HazeShot 05:04, May 13, 2011 (UTC)
Community content is available under
CC-BY-SA
unless otherwise noted.