Closed Request

This is a closed request. A Logo has already been made for this wiki. Do not make changes to this article unless you want to ask again.
Basically I dont really want anything special. All I really want is to have the Bone logo and then "Wiki" right beside it but with the font and style of the Bone logo. I dont know how to make that. If any of you would do that i would be really thankful.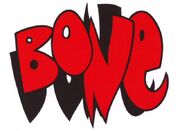 —Preceding unsigned comment added by ShehbazAhmed (talk • contribs)
It was hard to find a similar font, so I just settled with the following:
I like it thanks --ShehbazAhmed (talk) 18:34, September 12, 2012 (UTC)
Community content is available under
CC-BY-SA
unless otherwise noted.