Closed Request

This is a closed request. A Logo has already been made for this wiki. Do not make changes to this article unless you want to ask again.
Hi, I have been made the sysop of Bonsai Wiki, a neglected 'gardening' wiki that currently has no logo. Could one possibly made? Perhaps in Green ( the Monte Carlo Jade theme color), with a sullouette of a bonsai tree? That would be really helpful, thanks.Bokontonian 16:06, 29 May 2009 (UTC)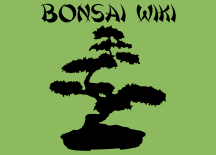 How's that? JoePlay (talk) 19:18, 31 May 2009 (UTC)

That's brilliant! ThanksBokontonian 17:49, 1 June 2009 (UTC)
Community content is available under
CC-BY-SA
unless otherwise noted.