Closed Request

This is a closed request. A Logo has already been made for this wiki. Do not make changes to this article unless you want to ask again.

I'd like a logo for Cherry Hill, my wiki. Since it's an original project I'd like the logo to have the following four actresses on the banner: Emily Browning, Maggie Grace, Leven Rambin, Dana Davis and Aisha Tyler (you can exclude any if it gets too big/crowded but the logo needs to have Emily Browning in it since she is the central character of the show) with the words "CHERRY HILL" in red, bold letters on a dark backgroud-- maybe with a car crash in the background.
If you can make anything similar (you can even replace the car crash with a dark sky if need be) please attempt to do so. Thank you!!! Johno1995 18:54, 20 February 2009 (UTC)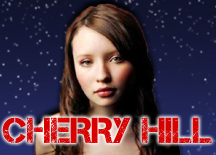 How's that? I didn't find a car crash image that would look anywhere near good with a dark background. Plus, fitting multiple images of people would quickly crowd the logo, and to fit them all, you'd have to shrink them so much that it might be hard to tell who it is. Let me know if you want me change anything. JoePlay (talk) 18:00, 22 February 2009 (UTC)
Community content is available under
CC-BY-SA
unless otherwise noted.