Closed Request

This is a closed request. A Logo has already been made for this wiki. Do not make changes to this article unless you want to ask again.
Hello, I am Pikapi, the founder of Communipedia and I desperately want a better logo image made. I want the logo to be based on the current one. With the green human-shape a slightly darker green and in the center of the logo space, the [[ ]] around the human shape and I would like it to say Communipedia above the image. The image may be a little to big the way it is now to just add that in so you may have to shrink it a tiny bit. I don't know the exact size of the image that I have now but I can show it to you. Thank you so much.--PiKaPi talk blog 01:00, March 3, 2010 (UTC)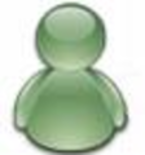 I don't want to sound rude, but I have waited a month for this logo. Can't someone please design me a logo image soon?--PiKaPi talk blog 18:25, March 25, 2010 (UTC)
Sorry you've been waiting so long, We've only really got 1 or 2 active people around here.. We had like 3 at one point, but they've disappeared. We've still got requests from 2008 unfilled (but I'm working on closing them..). There is a bit of backlog but I'll see if I can get working on it. -- (Talk) 08:44, March 27, 2010 (UTC)

Oh, are you wanting a monaco or monobook sized one? (Talk) 08:45, March 27, 2010 (UTC)
Well, my wiki uses the green theme (i think it is called Jade), but I don't use the wikipedia theme, nor is the skin my own design.--PiKaPi talk blog 13:53, March 27, 2010 (UTC)
Okey, so we'll go for Monaco theme. (Your using jade colour scheme.) Dont suppose you have a higher quality picture do you? --Lcawte 09:28, March 28, 2010 (UTC)

Done - I have created a logo for your wiki, based on your suggestions. I didn't use the image you suggested, as it was fairly poor quality, but got another one that was very similar. Please note, I have a larger version that is available on request. If there are any more changes required, let me know on my talk page, and I'll be happy to make changes. Cheers, Chicken7 >talk 09:28, April 8, 2010 (UTC)
Thank you very much! I'll ask if I think I need anything else. The logo is really cool!--PiKaPi talk blog 18:56, April 8, 2010 (UTC)
Community content is available under
CC-BY-SA
unless otherwise noted.