Closed Request

This is a closed request. A G20 Economic Summit has already been made for this wiki. Do not make changes to this article unless you want to ask again.
Looking for a logo for the G-20 Economic Summit in September 2009 in Pittsburgh, PA, USA. Thanks. Rauterkus 03:57, 31 May 2009 (UTC)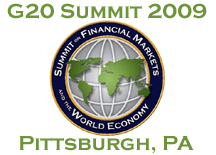 How's that? JoePlay (talk) 22:07, 4 June 2009 (UTC)
Splendid. Thanks! I'll plug it into use at http://G20.wikia.com. Rauterkus 15:03, 16 July 2009 (UTC)
Community content is available under
CC-BY-SA
unless otherwise noted.