Closed Request

This is a closed request. A Logo has already been made for this wiki. Do not make changes to this article unless you want to ask again.

1.) What size would be fine?
Maybe about 210 x 130.
2.) Your suggestions?
Here's the link: http://gakinotsukai.wikia.com
3.) Is there something that needs to be included?
There should be 5 persons. I'll put the names that your going to find:
Matsumoto Hitoshi (The bald one)
Hamada Masatoshi (The big lip one)
Yamasaki Hosei (The chubby one)
Tanaka Naoki (The tall one)
Endo Shozo (The handsome one)
Just put the word Downtown on top of the words Gaki No Tsukai.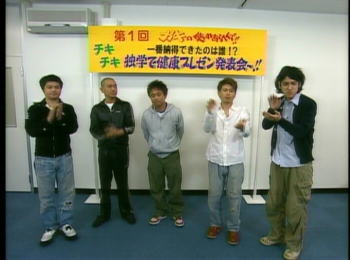 4.) So far, so good?
That should be it.
TheAC29 (talk) 09:23, September 13, 2010 (UTC)
I hope this is okay. I found a different cast photo, but I'm not sure if they are exactly the same guys, since both were kind of low resolution. -- 

Fandyllic

(talk · contr) 7:52 PM PST 19 Oct 2010
Yep, this is the guys you put man thanks, but how can I change the logo because I don't understand the steps they post. So can help me?
TheAC29 (talk) 23:50, October 21, 2010 (UTC)

Instructions for using new wordmark:

Download the following to your computer: http://images2.wikia.nocookie.net/__cb20101020025047/logocreation/images/c/c6/Gaki_no_Tsukai_wordmark.png
Go to the Theme Designer on your wiki (you must be an admin): w:c:gakinotsukai:Special:ThemeDesigner
Click "Wordmark" on the upper left (looks like a tab).
Click the Browse... button on the upper right and select the image you downloaded in Step 1.
Click the Upload button.
Click the Save, I'm done button (below Upload on the right side).
Community content is available under
CC-BY-SA
unless otherwise noted.