Closed Request

This is a closed request. A Logo has already been made for this wiki. Do not make changes to this article unless you want to ask again.
hello i need a 135 pixels wide logo for the knightmare wikia. Here's what i would like it to look like. The k is uppercase and is made of steel swords. The other letters are lower case but are still made of steel swords. One last detail i would like is i would like the background to be ablaze with fire. Thank you for your time. --peacebreeze@yahoo.ca 23:23, 27 June 2009 (UTC)
Could you specify - Knightmare from what series? You might give a link to your wiki and a picture? This would be great.

Marc-Philipp (MtaÄ)

Helper (Talk) 09:09, 28 June 2009 (UTC)

How is this?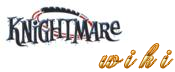 10:32, 28 June 2009 (UTC)
it's perfect thank you
Community content is available under
CC-BY-SA
unless otherwise noted.