Closed Request

This is a closed request. A Kuroshitsuji Wiki/Logo has already been made for this wiki. Do not make changes to this article unless you want to ask again.

Hey, I would like to request a new logo for Kuroshitsuji Wiki. This wiki currently uses this image:

as its logo and I personally think it can be better.


I would like to incorporate this image: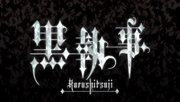 for the new logo. Thanks. C. Phantom (Talk)
Yes the "W" in "Wiki" should be capitalized. I would like to incorporate the three Kanji letters. The "Wiki" wording should be beneath the kanji and alongside the "Kuroshitsuji". Thanks. C. Phantom (Talk)

Yeah, but you haven't followed the specifications.
Oh, and I made it transparent too, but I found it had problems if the background were dark, so I also gave it a little white glow. I re-uploaded it a few times, so if you'd like to copy it over, make sure you press "Ctrl+F5" to refresh your browser a few times to get the final version of the logo. -- FOMA (Talk) 19:10, January 31, 2012 (UTC)
I like the logo a lot. Thanks! And a Monobook version would be great. C. Phantom (Talk)
As for you, Jeff, I'm sorry I tried my best to follow his instructions and being as explicit as possible on the logo I made to try to get feedback on how to make it as great as possible.
Community content is available under
CC-BY-SA
unless otherwise noted.