Closed Request

This is a closed request. A Logo has already been made for this wiki. Do not make changes to this article unless you want to ask again.

I would like to request a logo for a Laurel and Hardy Wiki. Laurel and Hardy acted in black-and-white films, so I think the logo would mainly be in black-and-white also. If you could create a design based on Laurel and Hardy themselves, or instead their hats, that would be best to represent what the Wiki is about. The text could be based on styles similar to the film titles, or the theatrical poster here. (It doesn't really matter if you copy the text from there and leave it in colour.)
Thanks for your help! Moydow 01:25, 25 April 2009 (UTC)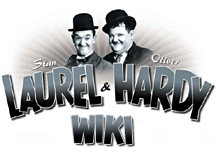 Done! JoePlay (talk) 16:03, 30 April 2009 (UTC)
Community content is available under
CC-BY-SA
unless otherwise noted.