Closed Request

This is a closed request. A Logo has already been made for this wiki. Do not make changes to this article unless you want to ask again.
Requesting a logo!
Hi everyone!
I started to make my own wiki today, and I would like to getting started right away! Making logos is something I really can't. So that's why i'd like to ask any help from professional logo-artist or just someone who knows a lot of it. Would someone please make a logo for me?
I'll problably need more than just a logo, so maybe when he/she would like to help me for my wiki, any help would be appreciated!
My wikia: click here or here!
What my Logo needs

This picture should be worked in my logo, with the correct resolution for the wiki logo.
the letters NL should be in the logo (below?) it reffers the dutch initials (.nl)

Or you write below the MechScape letters voor nederlandtaligen which means for dutch-speaking people
It has to look Science-Fiction and professional
More information about the game: MechScapeWorld

Thanks! Cheers! <3 Rosemary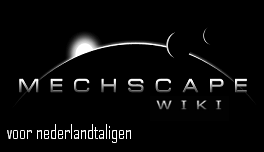 is that ok? Rswfan