Closed Request

This is a closed request. A Theme has already been made for this wiki. Do not make changes to this article unless you want to ask again.
Hey again,
I would like to request I theme for The Shingeki no Kyojin Wiki. I would like the left hand side to include members of the Scouting Legion and the right to include different types of Titans. Maybe I should be more specific.
I would like like something like a collage. With each individual image having its own frame of 2-4px, the frame should be white.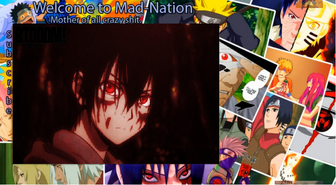 Sort of like this. The images can be a mix of the anime, manga and even fan art. If you could, throw in some volume covers too. Sorry if I'm asking to much.
Thanks. Mad Nation (talk) 18:44, March 11, 2013 (UTC)
Hm? Th image isn't available.
Mad Nation (talk) 16:01, March 12, 2013 (UTC)
I don't really understand what you mean. You might just need to wait for it to load. If you like the background, open File:Shingeki no Kyojin Wiki Theme.jpg and then download it and then upload it using Theme Designer -- Sam Wang (talk) 05:08, March 13, 2013 (UTC)
I mean I can't view the image, 404 and it says the image isn't available on this wiki so if you don't mind could you leave the theme on my talk page at Shingeki no Kyojin wiki?Mad Nation (talk) 16:16, March 13, 2013 (UTC)
Just in case you didn't see it, I've uploaded it to Shingeki no Kyojin Wiki -- Sam Wang (talk) 12:26, March 17, 2013 (UTC)
I checked the requester's wiki and the wiki has a theme. So I will close this request now. Queennicolee Talk http://i938.photobucket.com/albums/ad227/queennicolee/QueenNicole_zpscc45450c.png 23:38, January 31, 2014 (UTC)
Community content is available under
CC-BY-SA
unless otherwise noted.