Closed Request

This is a closed request. A Logo has already been made for this wiki. Do not make changes to this article unless you want to ask again.
Hello there, I'm the founder of
Wiki InuYasha
. All I need is to have a suitable logo for this Wiki. Here is the example for InuYasha logo.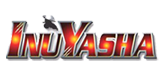 It is because InuYasha Wiki is Malay Version, the logo words should be "Wiki InuYasha". The upper font of 'W' from 'Wiki' must be same size as the upper font of 'I' from 'InuYasha', and the 'Wiki' text style should same as InuYasha logo. I can't wait to see what would this logo turns out, just take your time. :) Sango 珊瑚 (The demon exterminator) 13:54, April 1, 2012 (UTC)
Yeah, 'Wiki' first then 'InuYasha', becomes 'Wiki InuYasha'. 'W' this capital should be same size as 'I'. Because my InuYasha Wiki categorized as Malay Version, so the law of writing 'InuYasha Wiki' in Malay language should be 'Wiki InuYasha', basic points/things first, then names. :) You must be wondering, eh? I hope you wouldn't get confuse afterwards.
And don't worry too much 'cause Malay language all are in English capital letters, from A 'til Z. ;) Sango 珊瑚 (The demon exterminator) 06:53, April 2, 2012 (UTC)
Awesome, you really got talent on creating various wiki logos! :O I wish I can create logos just like yours. By the way, thank you so much, and I believe at the same moment it also increase your knowledge about Malay language. XB Sango 珊瑚 (The demon exterminator) 04:29, April 5, 2012 (UTC)
Community content is available under
CC-BY-SA
unless otherwise noted.